Well, my pantry is not exactly the jaw-dropping pantry that I have imagined in my mind yet, but I decided to share with you the way it is so far. It is organized and accessible, and works very nicely for now.
My pantry is in the corner of the kitchen, so it was very difficult to get pictures. Here is a view from the outside with the door opened all the way.
I have the three kidos lunch boxes hanging on hooks on the left wall. This has worked great as it keeps them easily accessible and in their own place. If you look closely between the blue and green lunch bags, you can see my paper towel holder. It is from IKEA and works fine for now, but I am on the lookout for something a little different that can be mounted on the wall, but will hold the paper in place better.
My pots and pans racks are my biggest space savers. I don't think I will ever change this----it works too well. :0)
As you can see, I chose to label the general categories in the pantry. This keeps things organized by me, and others who are helping put things away.
You can download the labels
Here
if you'd like.
My shelves do not go floor to ceiling so I added a couple of drawers and two galvanized buckets for extra storage. Thankfully they I already had both of these on hand.
The galvanized buckets are really fun and added a little style to the pantry.
In order to further organize my top drawer, I placed a couple of plastic bins inside and filled them with our cookie cutters and puddings/jellos. My cake decorating tools are pushed all the way to the back (I don't use those
very
often).
The bottom drawer holds my "nice" silverware and extra linens
I was excited when I found these cute little candy jars at Walmart for only $4-5 each. I thought they added just the perfect touch of whimsy to the pantry.
And there you have it.....my organized pantry!
Trust it inspires a little organization in you today. :0)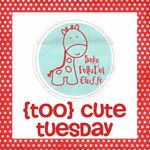 Happy Go Lucky, Do Small things With Love